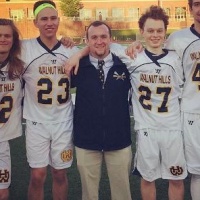 Conor Peck is a native of Cincinnati, Ohio, and current Head Coach of the Walnut Hills High School Men's Lacrosse program. Conor was a Varsity Captain at Turpin High School in Cincinnati, where he played for 4 years, before graduating in 2012.
Conor attended The University of Cincinnati, where he studied Accounting and began coaching with Walnut Hills. His coaching experience includes; Walnut Hills Junior High Head Coach (2014-2016) and Walnut Hills Varsity Head Coach (2016-present). He also has 4 years of select / travel team coaching experience, and has coached football, particularly Running Backs and Linebackers at the Varsity Level. In 2017, Conor and staff started Eagles Youth Lacrosse LLC, the first youth lacrosse program in the Cincinnati Public Schools District.
In his spare time, Conor enjoys golfing, reading, traveling, and following / being around all sports.